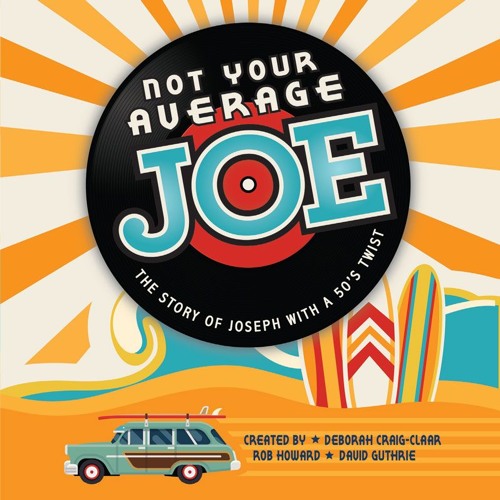 LIGHTHOUSE CHURCH and the 2023 Summer Music and Drama Camp Presents: Not Your Average Joe
That Joe- He's so dreamy!  The year is 1959, and at the family drive-in, Papa Jake's Fries 'n
Shakes, things are hoppin'!  But favored son Joe always seemed to have his nose in a Good
Book.  When the patriarch of the family, Papa Jake, gives Joe his prized leather jacket and turns
the business over to him for the summer, things get gnarly.  With some "help" from his jealous
siblings, Joe finds himself unexpectedly aboard a woody wagon headed to a far away land of
sand, strange customs and a Pharaoh … er, Great Kahuna … the beach!  The ups and downs
of the journey remind Joe that God is with him, and the hurricane force of a food crisis teaches
Joe and his reunited family the power of forgiveness.
Come be a part of the "LIGHTHOUSE CHURCH FAMILY DRIVE IN", the totally gnarly
musical that even older kids love, with a rock-solid Biblical message!
Registration is currently full
DATE: Monday, June 19th – Friday, June 23rd
Time: 9:00am – 1:00pm
AGE: 1st – 6th grade (completion)
COST: $80.00 per child, each additional sibling $40.00
SHOW TIME: June 23rd, 6:30pm
AUDITION PARTY: Sunday May 7th 2:00 – 4:00pm
For more information, contact Kim Johnson at kjohnson@lighthousechurch.net
Welcome to THE SHORE – Lighthouse Children's Ministry!
At THE SHORE children have an opportunity to experience worship together, participate in a hands-on Bible story, play games and build relationships with each other.  THE SHORE takes place during our Worship Gathering at 10 am on Sunday mornings.    Please refer to the information below for a breakdown of our age groups as well as our Children's Ministry Registration Form.  If you are planning to attend a Worship Gathering you can fill this information out before you arrive to speed up your registration process.  We look forward to serving your family!  You can also register your child in the foyer of the Worship Center on Sunday morning.  We have 4 different environments where we teach our children at an age-appropriate level. All Elementary aged students will participate in worship with parents before being dismissed to The Shore on Sunday mornings.
Click here to register your child with our Children's Ministry.
6 weeks – 2 years   Nursery in the worship center
2's & 3's   In the Preschool building
4's – 5's   In the Preschool building
1st Grade – 5th Grade   Start in the worship center, head to our Elementary space together behind the church offices after our morning worship songs.
We believe that children worshiping God together, understanding His Word and serving each other is a key component to the spiritual development of our Family of God.  Through this safe and energetic time Lighthouse Church can partner with you as we come together to see the path that God has for your children.
For more information regarding Children's Ministry please contact Kim Johnson – kjohnson@lighthousechurch.net